The Heart of Italy 2018
An Intimate Food, Wine, Art and Shopping Week: Bologna and the Adriatic
Overview
We'll start our week in Bologna, the very heart of Italy. Says renowned food writer David Rosengarten:
If you ask an Italian where the best food is in Italy, you almost always get the same answer. "Eh," they like to say. 'At my mother's house!'…looking like 'how could you be so stupid to not know that?' But if you push it to a regional discussion…as I have hundreds of times…the most likely answer is…"Emilia-Romagna"…the wondrous north-central region that lies in the fertile Po River Valley.
Forbes, November 28, 2013
We'll discover what David and the Italians are raving about — and more– starting with a stay in the regional capital of Bologna. Cuisine, wine (yes, Lambrusco IS a great choice with this amazing food!), age-old crafts, the world-famous mosaics of Ravenna — through one pretty village after another. This is a snippet of our week together.
On the border between Tuscany and Umbria, flanked by the Apennine Mountains which slope gently along the hills and valleys down to the Adriatic Sea, lies Le Marche. Imagine Tuscany 50 years ago. This is a land strongly attached to artisan tradition, where farm to food was the norm long before the phrase was coined. Good wine and top-quality food, nearly-lost folk art, and almost none of the crowds found in other equally beautiful corners of Italy set Le Marche apart. The region also boasts dozens of cities full of art, among which the masterpieces of Piero della Francesca, Raphael, Bellini, Lorenzo Lotto, Rubens and Titian. Oh, and don't forget that Rossini — The Barber of Seville; Cinderella — is from here as well.
Perfectly preserved historic theaters (72 of them!), Roman roads and hidden villages ready to unveil their secrets and traditions. Nearly 200 churches that date to Roman times. Strategically-placed monasteries, abbeys and convents, some of which are now open to guests and visitors as they once were to pilgrims. Pair these virtues with a genuinely touching hospitality, borne of a land still unspoiled by mass tourism. This is Bologna and Le Marche.
Day-By-Day
Day 1 – Arrival in Bologna; relax into the good life
Independent arrival at our hotel and time for lunch and exploration with a wonderful local who will spend this week showing us the best of the shopping and other experiences. Those who wish may join the orientation walk from 4-6pm this afternoon, where our guide will introduce us to what UNESCO terms "the largest and best preserved old town center in the world", with its arcades, monuments, the "Twin Towers" and rich cultural heritage.Evening: Dinner on your own; we suggest one of the most famous Inns of Bologna listening to Jazz music; a traditional butcher's shop in the heart of Bologna where you will taste delicious tortellini and mortadella; OR Dinner in a typical restaurant with truffle menu.
Accommodation for the next 2 nights: Superior rooms at Hotel Touring 4*
Day 2 –  Explore Bologna
Leisurely breakfast, then it's off to explore this magnificent city. Shopping, gastronomic and cultural opportunities abound. We'll provide suggestions. Checking out one of the Medieval towers;  seeing Below Bo:  layers of civilization; taking advantage of some of the best shopping in Italy;  see the fascinating archeological museum; or a short cab ride to FICO:  the Disneyland of food:  Italy's new, 1,000,000 sq ft emporium of restaurants and food. No small wonder Bologna has earned so many historical monikers. La Grassa (the fat one) celebrates a rich food legacy (ragù or bolognese sauce was first concocted here). La Dotta (the learned one) doffs a cap to the city university founded in 1088. La Rossa (the red one) alludes to the ubiquity of the terracotta medieval buildings adorned with miles of porticoes, as well as the city's long-standing penchant for left-wing politics. Today is yours to discover which face of Bologna fascinates you most.
Note: A fabulous food market shopping and cooking experience is available for an additional fee.
Accommodation for the next 2 nights: Superior rooms at Hotel Touring 4*. Meals included: B 
Day 3 – Bologna – Ravenna – Fano
On our way to the Marche Region this morning, we'll stop to explore Ravenna. Once the capital of Rome's Western Empire, Ravenna's early importance as a center of Byzantine art and culture still shines through today. The Italian city boasts innumerable early Christian mosaics, on display throughout the religious buildings and museums and arguably the most stunning in the world. Sicily and Turkey have more, yes, but in Ravenna, especially inside the Mausoleum of Galla Placidia, it's like being inside a dazzling jewelry box.  UNESCO experts describe the mausoleum as "the earliest and best preserved of all mosaic monuments, and at the same time one of the most artistically perfect". Ravenna is home to eight Unesco World Heritage sites, and we can see most of them strolling through the city center. Finally, we'll explore the Piazza del Popolo, and time permitting, learn how mosaics are made in a modern-day workshop.
Stop for a tasty lunch, then move on to Fano, a very livable seaside town. Enjoy a leisurely walk through this colorful place of Roman origins and Renaissance heart before reaching our castle hotel.
Arrival at Monterado and check-in at our castle hotel. A fun dinner awaits us right outside the hotel door at a local trattoria.
Accommodation for the next 2 nights: Superior rooms at Castello di Monterado/Monterado. Meals included: B, L, D
Day 4: Urbino
Today we head for Urbino, the jewel of this part of the region and one of the most important Renaissance cities in Italy. Raphael's Renaissance 'hood, the vibrant university town of Urbino is often the first stop on a trip to Le Marche, and understandably so. The patriarch of the Montefeltro family, Duca Federico da Montefeltro, created the best art scene of the 15th century here, gathering the great artists, architects and scholars of his day to create a sort of think tank. The town's splendor was made official by Unesco, which deemed the entire city center a World Heritage Site in 1998. The Duke's brilliant studiolo (contemplation cabinet) in the Ducal Palace is entirely paneled in what must be the world's most intricate marquetry work. After our visit we're invited downtown to Monia's. She opens "the cave" to guests for a discovery of Montefeltro products, including the creamiest polenta awash in truffled broth — sounds great….tastes even better! Other specialties of the region including  unique cheeses  and cured meats, and superb red wine enhanced with cherry.
Afternoon option: BECOME SCULPTORS!
After lunch, optional transfer to Santi'Ippolito, the village of stonemasons, to meet the sculptor Natalia Gasparucci. Her mini-course in sculpture (about 4 hours total) will give each of us the chance to create our own sandstone mini-masterpiece. At day's end, we will walk away with our creation! Rustic dinner (local salumi, tasting of pasta dishes with fall flavors (duck sauce, mushrooms, whatever's fresh) in a village nearby wraps up the evening. [Additional charge for sculpting class and dinner TBD based on number of participants; $110 supplement if everyone participates]
Those who prefer a free afternoon will be transported back to the castle after dropping the group in Sant'Ippolito.
Accommodation: Superior rooms at Castello di Monterado/Monterado. Meals included: B, L, D (D only for sculptors)
Day 5: Monterado – Ascoli Piceno: Shop till you drop, straw hats, a gorgeous town…
We'll take the beautiful drive through the Marche region today, stopping in the center for a "marathon-shopping" visit to Danhera, creator of sensational luxury fragrances for the home, as well as gorgeous outlets Tod's (T&L calls this one of the top 10 designer secrets in Italy) and other high-end brands. After tucking our shopping bags into the van, we'll move on to the village of Montappone for a quick visit to the fun hat museum with a special guide. Lunch in the village (in a palace, no less!), and then it's on to the gorgeous town of Ascoli Piceno. After settling into our spacious rooms in a city palace hotel and enjoying a welcome drink, it's out the door for a light one-hour introduction walk to Ascoli Piceno: With a continuous history dating from the Sabine tribe in the 9th century, Ascoli (as it's known locally) is like the long-lost cousin of ancient Rome and a small Marchigiani village, heavy on history and food. Weary legs will appreciate its lack of hills and all travellers will appreciate its historical riches, excellent pinacoteca (art gallery), trendy bars and restaurants, one of Italy's unsung perfect piazzas and the calorific treat, olive all'ascolana (veal-stuffed fried olives). More on that tomorrow. Welcome to the hippest town in Le Marche.
We will suggest some great options for dinner tonight.
Accommodation for the next 2 nights: Superior rooms at Palazzo dei Mercanti. Meals included: B, L, welcome drink
Day 6: A DREAMY WINERY and lunch in the Adriatic countryside
After breakfast we'll head to the hills and woman-owned-and-operated Cocci Grifoni Winery. General Manager Marilena guides us through the labyrnth of 85 years of history, recounting how Grandpa Guido sensed that this land was perfect to salvage the native Pecorino grape. From his wisdom comes the enchanting Pecorino white, which seems to pull flavors right out of these breathtakingly gorgeous hills. We'll then sit down to a little feast, prepared to highlight their wines by Slow Food Chef Daniele Citeroni. Afternoon free for last minute shopping in Ascoli, where our local guide will show us a couple of hidden treasures. Farewell dinner tonight in Ascoli in a splendid location: the historical Caffè Meletti.
Accommodation: Superior rooms at Palazzo dei Mercanti. Meals included: B, L, D
Day 7: Ascoli Piceno – Rome
Time for last minute shopping before departure for Rome. We will zip across Italy on the motorway, with a halfway stop at the beautiful Porta Dei parchi Farm in Anversa. Italians come here to adopt a sheep or goat, but we'll just enjoy a memorable lunch made from the fruits of the farm: homemade pasta, cheese and salumi. Late afternoon arrival at our seaside hotel near Fiumicino airport, with time to walk on the beach and remember our wonderful trip off the beaten path.
Accommodation: Classic rooms at Albergo La Conchiglia 3*. Meals included: B, L
Day 8: Arrivederci!
Transfer to Rome Fiumicino airport after breakfast.
NOTE: This tour can also be run without an Adagio tour leader but with the help of a very capable Italian tour leader with a $500 reduction in price per person. The price will also decrease with additional participants, up to a maximum of 12.
Special Features
OPTIONAL SCULPTING CLASS AND RUSTIC DINNER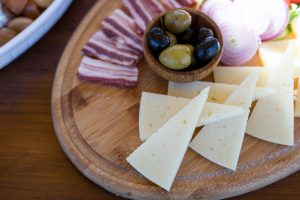 On Day 4 of our trip, after the visit to Urbino, transfer to Santi'Ippolito, the village of stonemasons, to meet the sculptor Natalia Gasparucci. Her mini-course in sculpture (about 4 hours total) will give each of us the chance to create our own sandstone mini-masterpiece. At day's end, we will walk away with our creation! Rustic dinner (local salumi, tasting of pasta dishes with fall flavors (duck sauce, mushrooms, whatever's fresh) in a village nearby wraps up the evening. [Additional charge for sculpting class and dinner TBD based on number of participants; $110 supplement if everyone participates]