Italy's Secret Corner: Le Marche – May 15-20, 2019
Food, Wine, Shopping and Art Between the Appenines and the Adriatic
Overview
Our 6-day program takes you through gentle hills covered by vines and olives, at an easy-going pace that showcases the magic of this land. On the border between Tuscany and Umbria, flanked by the Apennine Mountains which slope gently along the hills and valleys down to the Adriatic Sea, lies Le Marche. Imagine Tuscany 50 years ago. This is a land strongly attached to artisan tradition, where farm to table was the norm long before the phrase was coined. Good wine and top-quality food, nearly-lost folk art, and almost none of the crowds found in other equally beautiful corners of Italy set Le Marche apart. The region also boasts dozens of cities full of art, among which the masterpieces of Piero della Francesca, Raphael, Bellini, Lorenzo Lotto, Rubens and Titian. Oh, and don't forget that Rossini — The Barber of Seville; Cinderella — is from here as well.
Pair these virtues with a genuinely touching hospitality, borne of a land still unspoiled by mass tourism. Welcome to Le Marche.
Day-By-Day
Please note that this tour begins with independent arrival in the town of Fano in Le Marche. We are happy to help you with pre-tour arrangements in Bologna, a fascinating and largely undiscovered city, and tickets from there to Fano. Guests should all take the same train, which is under two hours. Leave after lunch, arrive in time for pick-me-up espresso!
Day 1: Arrival in Le Marche
Independent arrival to the Marche region. The Appenine Mountains rise majestically to the west, while the Adriatic Sea marks the eastern border.
Check-in at our castle hotel. A fun dinner awaits us right outside the hotel door at a local trattoria.
Lodging for the next 2 nights: Superior rooms at Castello di Monterado/Monterado. Meals included: D
Day 2: Urbino and Option to Sculpt
Today we head for Urbino, the jewel of this part of the region and one of the most important Renaissance cities in Italy. Raphael's Renaissance 'hood, the vibrant university town of Urbino is often the first stop on a trip to Le Marche, and understandably so. The patriarch of the Montefeltro family, Duca Federico da Montefeltro, created the best art scene of the 15th century here, gathering the great artists, architects and scholars of his day to create a sort of think tank. The town's splendor was made official by Unesco, which deemed the entire city center a World Heritage Site in 1998. The Duke's brilliant studiolo (contemplation cabinet) in the Ducal Palace is entirely paneled in what must be the world's most intricate marquetry work. After our visit we're invited downtown to Monia's. She opens "the cave" to guests for a discovery of Montefeltro products, including the creamiest polenta awash in truffled broth — sounds great….tastes even better! Other specialties of the region including  unique cheeses  and cured meats, and superb red wine enhanced with cherry.
On the way back to the hotel this afternoon, we'll stop in Santi'Ippolito, the village of stonemasons. Here sculptor Natalia Gasparucci creates sandstone sculptures from local materials. Time in the afternoon to enjoy the  castle library or stroll through the private woods at our hotel. Dinner on your own tonight. Or….
Complementary round trip transportation will be provided to the sea side town of Senigallia for those who wish to dine on the Adriatic. We recommend that the gourmets among you try double Michelin-starred Uliassi, one of Italy's top 10 restaurants. 
Meals included: B, L, D for those who participate in the sculpting class. See Special Features.
Day 3: Monterado – Ascoli Piceno, with jewels, shoes and straw hats on the way…
We'll take a beautiful drive through the Marche region today, stopping first at a bespoke jewelry creator, then on to the village of Montappone for a quick visit to the fun hat museum. Lunch in the village (in a palace, no less!), then we continue the journey south. To break up the drive, we'll stop briefly at Danhera, creator of sensational luxury fragrances for the home. There is also some fabulous outlet shoe shopping en route (think Tod's (driving shoes!), Cesare Paciotti (luxe!)) Finally we reach the gorgeous town of Ascoli Piceno. After settling into our spacious rooms in a city palace hotel and enjoying a welcome drink, it's out the door for a light one-hour introduction walk to Ascoli Piceno: With a continuous history dating from the Sabine tribe in the 9th century, Ascoli (as it's known locally) is like the long-lost cousin of ancient Rome and a small Marchigiani village, heavy on history and food. Weary legs will appreciate its lack of hills and all travellers will appreciate its historical riches, excellent pinacoteca (art gallery), trendy bars and restaurants, one of Italy's unsung perfect piazzas and the calorific treat, olive all'ascolana (veal-stuffed fried olives). Welcome to the hippest town in Le Marche.
We will suggest some great options for dinner tonight.
Accommodation for the next 2 nights: Superior rooms at Palazzo dei Mercanti. Meals included: B, L, welcome drink
Day 4: A DREAMY WINERY and lunch in the Adriatic countryside
After breakfast we'll head to the hills and woman-owned-and-operated Cocci Grifoni Winery. General Manager Marilena guides us through the labyrynth of 85 years of history, recounting how Grandpa Guido sensed that this land was perfect to salvage the native Pecorino grape. From his wisdom comes the enchanting Pecorino white, which seems to pull flavors right out of these breathtakingly gorgeous hills. We'll then sit down to a little feast, prepared to highlight their wines by Slow Food Chef Daniele Citeroni. Afternoon free for last minute shopping in Ascoli, where our local guide will show us a couple of hidden treasures. You may want to have an encounter at our hotel's spa (caviar facial, anyone?) to help prepare you for the journey home. Farewell dinner tonight in Ascoli in a splendid location: the historical Caffè Meletti.
Meals included: B, L, D
Day 5: Ascoli Piceno – Rome
Time for last minute shopping before departure for Rome. We will zip across Italy on the motorway, with a halfway stop at the beautiful Porta Dei parchi Farm in Anversa. Italians come here to adopt a sheep or goat, but we'll just enjoy a memorable lunch made from the fruits of the farm: homemade pasta, cheese and salumi. Late afternoon arrival at our Rome Fiumicino airport hotel.
Accommodation: Classic rooms at the Hilton Garden Inn, Rome Fiumicino Airport. Meals included: B, L
Day 6: Arrivederci!
Departure with the complementary hotel shuttle to Rome Fiumicino airport after breakfast. Meals included: B
Special Features
OPTIONAL SCULPTING CLASS AND RUSTIC DINNER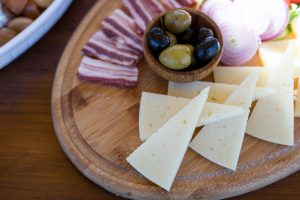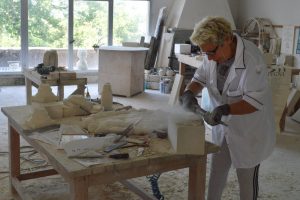 On Day 2 of our trip, after the visit to Urbino, transfer to Santi'Ippolito, the village of stonemasons, to meet the sculptor Natalia Gasparucci. Her mini-course in sculpture (about 4 hours total) will give each of us the chance to create our own sandstone mini-masterpiece. At day's end, we will walk away with our creation! Rustic dinner (local salumi, tasting of pasta dishes with fall flavors (duck sauce, mushrooms, whatever's fresh) in a village nearby wraps up the evening. [Additional charge for sculpting class and dinner TBD based on number of participants]