Returning to Airspace: My First International Travel Experience Post-Covid
July 2, 2021
I've returned home from my first international travel experience post-Covid, and I'm here to tell the tale to help you get ready for your next adventure!
June 3, 2021
The Newark airport was nice and functioning at about half capacity from what I remember. I was able to easily find a clean area to plug in two devices and work for 2-3 hours while awaiting my flight. Everyone was masked, and calm prevailed.
Boarding our United flight to Frankfurt was chaotic. I heard announcements throughout the terminal all afternoon about needing to show your vaccination/Covid-19 test results and other documents at the gate before they started boarding. So, I took care of that about an hour before boarding and only had to wait a couple of minutes at my gate. Others apparently "didn't get the memo" and tried to board without having shown their proper documentation. They were booted out to another line to take care of this requirement, which caused quite a bit of huffing and puffing among edgy passengers. On top of that, we were delayed about an hour due to a "small mechanical problem" that was ultimately resolved.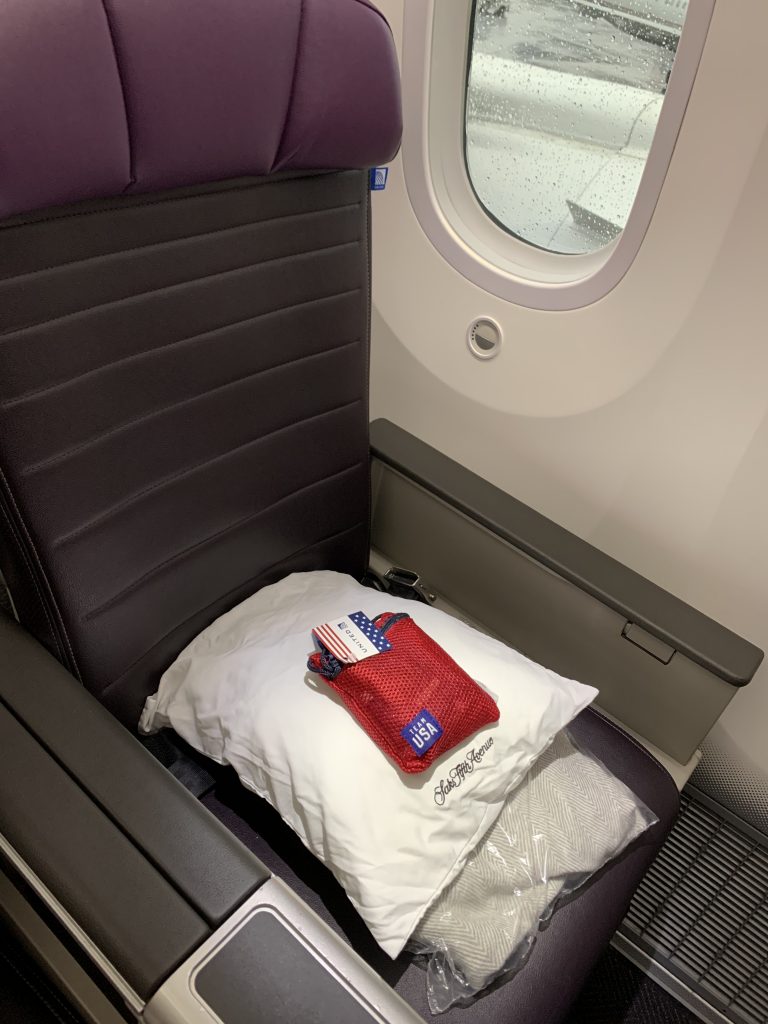 The photo is of my seat in United's "Premier Plus" section immediately behind Polaris (Business) Class. The Saks Fifth Avenue pillow and blanket were super cozy and the seat fairly comfortable. It has a weird flimsy footrest that I guess is better than nothing and the recline is clearly superior to Coach class!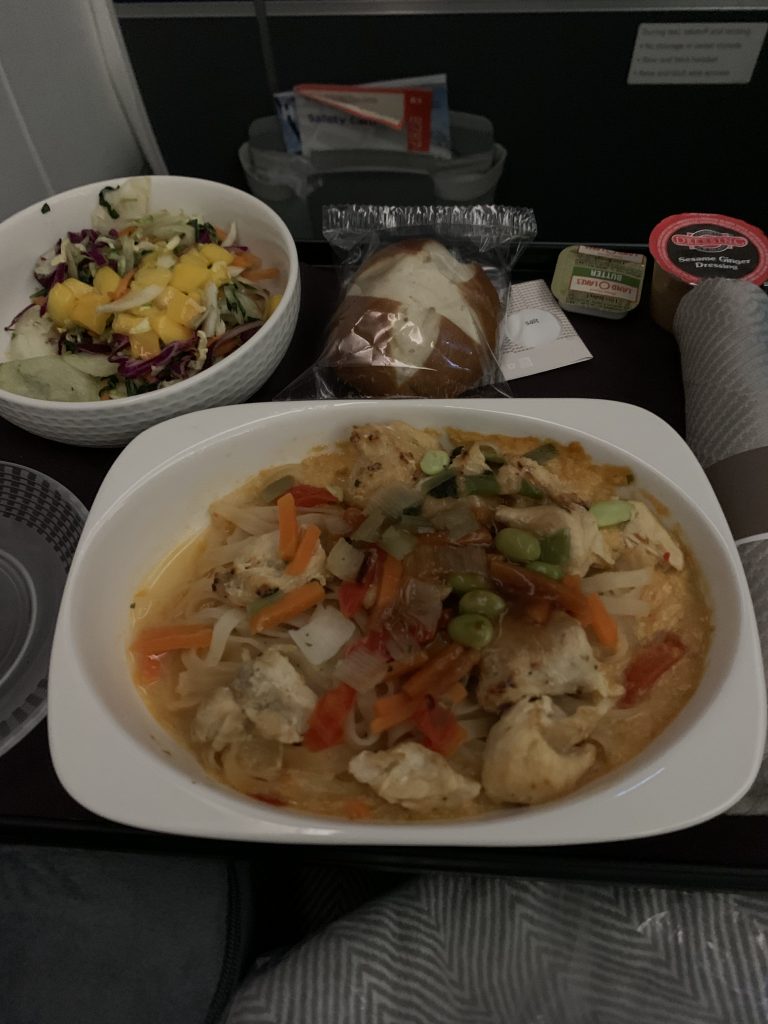 I tried to order a special meal a few days before the overseas flight and was told there was no food on the flight due to Covid-19. Instead, they brought the Asian chicken meal that you see in the photo and a decent mini-bottle of South African Shiraz. A hot breakfast sandwich and coffee were served before arrival.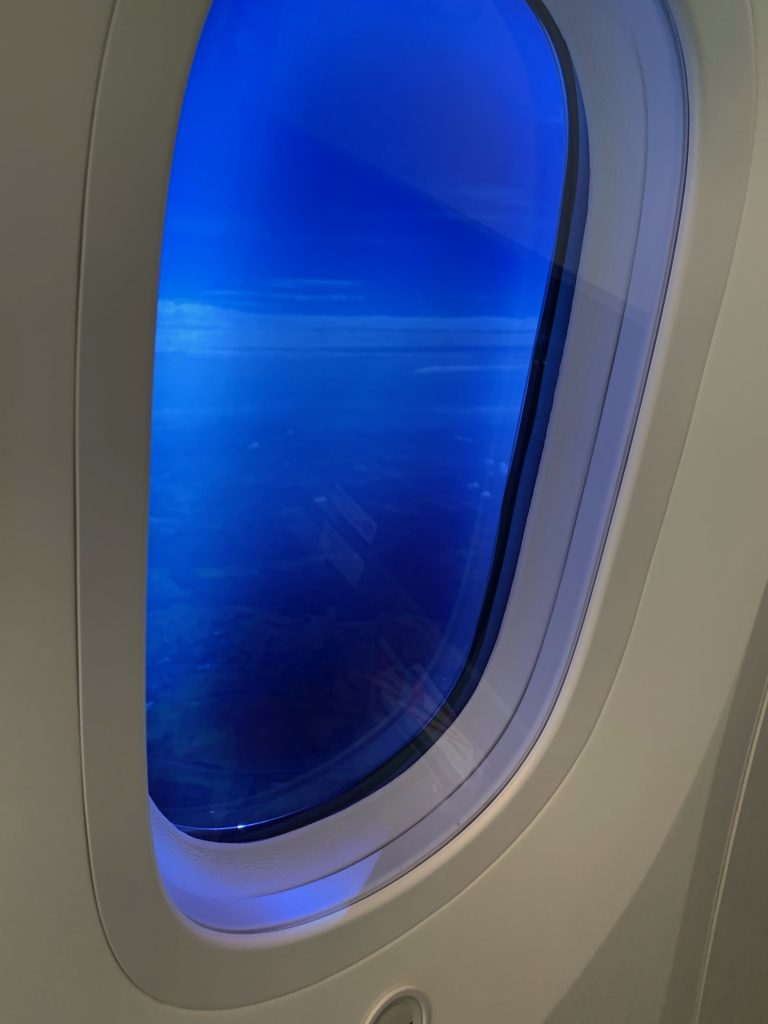 This was my first trip on the Boeing 787 Dreamliner and I do love that aircraft! It's super quiet and has these amazing windows for which you can dial down the light when you want to sleep. Very swanky.
And, I DID sleep! When I awakened, I saw the German countryside outside my window.
Before arrival, the purser instructed us that no one could leave the plane except 19 passengers taking the only flight that day to Nigeria. Apparently some of these passengers would not meet Germany's strict Covid-19 standards to spend the night here, so they had to be quickly de- boarded before the rest of us. A helpful flight attendant had already told me that I would miss my flight to Dubrovnik due to our delay, but I had been rebooked on another one connecting through Munich after a 3-hour layover. So what should have been an 18-hour journey was turning into about 25. The Boka Bay lunch scheduled for that day in Montenegro would become a dinner at Verige65.
After deplaning,I went to the United help desk and was reissued a ticket on Lufthansa for my revised schedule. The wait was about ten minutes. Then I had to go through German immigration to get to the European flights terminal–another 20-minute wait. I finally made it to my terminal, where I had to find a Lufthansa service attendant to issue my boarding passes. The most interesting part of the journey occurred here: the Lufthansa agent refused to accept my vaccination card as adequate for entry into Croatia! Even though I told him there was a bypass function on Croatia's entry website that allowed vaccinated travelers to enter without a negative Covid-19 test, he insisted. Fortunately, I had the rapid Covid-19 test done on my departure date and could show him the result on my phone. That was all he needed and I'm so glad I thought at the last minute about the test. Be forewarned that it's best to have a very recent negative test in hand no matter the "party line" (i.e., instructions from the organizers of the travel conference I'm attending). These are crazy travel times! Take all the precautions you can think of!
I also recommend that you double check two things when you are rebooked on another airline… #TravelTips: first, that your frequent flyer number gets inserted as this often gets lost in the shuffle; and second, that you are not assigned a middle seat–If they can fix this at the gate, they will (and did for me!)
June 4, 2021
The Lufthansa flights to Munich and then on to Dubrovnik were unremarkable, although I did have to sprint across the airport to make the final flight. The planes were about two-thirds full with everyone in surgical masks so all felt very safe. There was nothing free on board other than water, and the Lufthansa flight attendants said they were selling the items on the menu card for the first time ever so that process was very slow and they ran out of multiple items.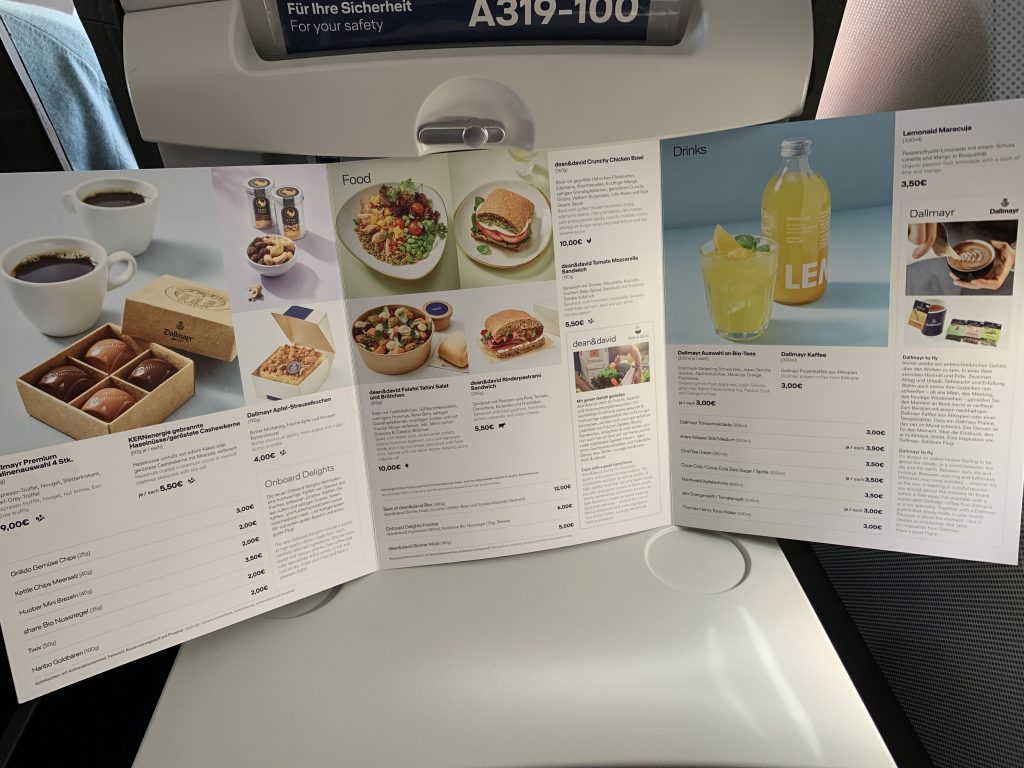 All-in-all, I, a devoted Delta fan, found it to be an enjoyable experience and would fly United again. Most of all, I was just happy to be in the air embarking on a new travel adventure after so long!