Peaceful Provence – Spring 2023
The Perfect Week in Provence
Overview
Discover Provence's magical landscapes and millennia of culinary traditions, celebrated wines and rich history. This region is filled with the views and vistas painted by dozens of renowned artists.  Explore their stomping grounds as well as the history and culture of the many villages of Provence. Immerse in the most famous French markets, filled with local produce and goods as well as the works of French artisans. You may even take home an antique … or two! And, we won't miss the seaside. Taste the salty Mediterranean air of the Cote d'Azur as you discover the "new Marseille". We'll take in all the alluring sights and culture of this grand city which has undergone a Renaissance the last few years. Also not to be missed: the 36,000-year-old cave paintings at La Grotte Chauvet. Breathtaking!
Our home for the week is an enchanting boutique hotel in the heart of Provence.  Located in the middle of the Alpilles National Park in the charming town of Eygalieres, the auberge and its swimming pool sit amidst acres of greenery. The farm-to-table restaurant will entice you both morning and evening.  The property is located 20 miles south of Avignon, and only 30 miles from the Mediterranean Sea. This serves as our home for the week so no baggage drill required!
Check out "View more photos" above to be immersed in the magical vistas of this trip!
Day-By-Day
Please note that this tour assumes arrival on the afternoon of April 30th and departure on the morning of May 7th to/from the Avignon TVG train station. Private transportation will be provided to and from this station. Those who require alternative options please request and provide specific information. Additional fees may apply. Details regarding train ticket purchases will be sent to you when final payments are due. Air travel is not included.
Day 1 – Saturday – Paris to Provence – La Bastide in Eygalières
Take the TGV (train à grande vitesse – fast train) from Paris to Avignon, a 2 ½ hour train ride. Afternoon pick-up at the TGV station in Avignon then we'll drive to La Bastide for the week and settle in. This 15-room hotel is surrounded by green oaks, pink laurels and fragrant rosemary. You can play ping pong or boules, lounge by the pool, or hit one of the garden's "nap corners"!
Aperitif and dinner at La Bastide. D
Day 2- Sunday –Isle-sur-la-Sorgue
Sunday is Fun Day at the Most Famous Market in all of Provence, started in the 16th century:  Off to L'Isle-sur-la-Sorge for an experience you likely have never had before.  See the real deal in French antique markets!  Le marche' is filled with local vendors from all over the south of France.  Taste local cheeses and meats, see French baskets of all shapes and sizes, peruse French antiques; fruits and vegetables (almost too stunning to eat!) as well as local crafts and goods fill row after row of colorful stalls. We will spend hours exploring the market and the side street shops.   Certain to work up an appetite, you'll have many places to grab a quick bite or enjoy a leisurely lunch at one of the many restaurants surrounding the market. Time permitting, this afternoon we'll also visit Le Jardin de L'Alchimiste in Eygalières.
After some time for R&R, enjoy a fabulous dinner tonight at  Chez Paulette in Eygalières. B,D
Day 3 – Monday – Marvelous Marseille
Marseille has so much to offer that we'll need the whole day to visit! In 2013 Marseille was the European Capital of Culture, so there are a lot of new things to see, including several interesting museums. The seafront and the old harbor have been completely restored.
Early Dinner in Marseille, or back to Eygalières. B,D
Day 4 – Tuesday – La Grotte Chauvet in Ardèche
We'll visit the 36,000 year old cave paintings  in Pont d'Arc, a cave discovered in 1994 that contains the first expressions of human artistic genius.  As in the more famous Lascaux, to preserve the original site, the French government made a replica of the whole cave, which was open to the public in June 2015. There are more than a 1000 drawings and paintings, with 15 different kinds of animals represented.
The cave was recognized by Unesco and has been classified as the number one World Heritage site. It is a beautiful site to see. Then after the visit we will have lunch near the cave, followed by a drive along the Ardèche River to come back to Eygalières..
Dinner Chez Ju in Molléges. B,D
Day 5 – Wednesday –Les Alpilles
Market day in St Rémy . We'll visit St. Rémy-de-Provence with the opportunity to explore St. Paul de Mausole, the asylum where Van Gogh spent a prolific last year (1889-1890), or the village of Glanum, a Roman archeological site. We'll lunch on our own (and shop) in St Rémy. After lunch we'll tour Les Baux de Provence with it's medieval ruins and history and spectacular vistas. Visit of La Carrière des Lumières. B, D at La Bastide
Day 6- Thursday – Le Grand Luberon – Site of Peter Mayle's A Year in Provence
Our day will begin with a trip to the charming town of Lourmarin (Peter Mayle's current home). We'll then avoid the hustle and bustle of the tourist stops by walking through the forests of the Luberon and lunching at L'Auberge des Séguins at the end a valley surrounded by cliffs. Off to Roussillon after lunch, where we'll explore the ochre quarries and visit this charming hill village.  Next we'll visit the spectacular village of Gordes, built on the face of a cliff, stopping at the most breathtaking viewpoint for the perfect photo before arriving in this hilltop village. Discover this picturesque town, with its unique local market and many restored homes. Then the cistercian Abbaye de Senanque with it's well-known lavender fields. Dinner at Chez Gilles (Eygalieres). B,D
Day 7- Friday – The Vaucluse and the Petit Luberon.
After a quick visit to the market in "our" little town of Eygalières, we'll depart for the Provençal market in Vaison -la-Romaine, the largest and most varied we know. Then we will visit the hill village of Seguret where our friends Ghyslaine and Jacques  live. They will give us  a cooking class  and lunch, which we will assist in preparing.
Visit of Gigondas and  wine tasting. On our own for dinner in Eygalières. B, cooking experience with L
Day 8  Saturday – depart for Avignon TGV Train Station
After breakfast, we will provide transportation to catch trains to the next destination. B
We ask that you discuss your departure plans with us at the time of Registration to help with coordination of Day 8.
Special Features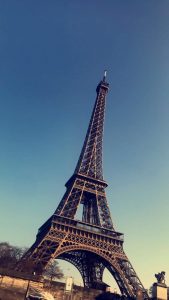 If you have a few extra days before the Provence trip, experience Paris and enjoy an overview of this wonderful city, a private perfumery session, cocktails with a French dress designer, or a champagne and caviar tasting.  We suggest 3 nights in our favorite boutique hotel in the 8th Arrondissement. Contact us for details!