France Beyond Paris: 2023
the less-traveled roads of Normandy and Brittany
Overview
From the Norman invasion of England in 1066 to the D-Day landings of 1944, Normandy's key role in European history is undeniable. This rich and often brutal past is brought vividly to life by the spectacular and iconic island monastery of Mont St-Michel; the incomparable Bayeux Tapestry, world-famous for its cartoon scenes of 11th-century life; and the transfixing cemeteries and memorials along the D-Day beaches, places of solemn pilgrimage.
Mont St-Michel we'll visit after hours. In fact, this entire "healing" Adagio trip flees the crowds by focusing on lower-profile charms. These include a variety of dramatic coastal landscapes, plenty of pebbly beaches, quiet pastoral villages and markets, and architectural gems. Camembert, apples, cider, rich cuisine and the very freshest fish and seafood provide further reasons to visit northwestern France.
Nextdoor neighbor to Normandy, Brittany is for seekers. Its strong Celtic heritage dates back to the Middle Ages, when immigrants from Ireland, Wales and Southern England established communities on the peninsula, calling it Brittany or Little Britain. The wild, dramatic coastline, medieval towns and dense forests make an excursion here well worth the detour off the beaten track. This is a land of prehistoric mysticism, proud tradition and culinary wealth, where fiercely independent locals celebrate Breton culture. Paris feels a long way away indeed. The entire region has a wonderfully undiscovered feel once you go beyond famous sights like stunning St-Malo and regal Dinard (where we'll spend 4 nights). Unexpected gems – including the  rugged coastline where we'll both sail and e-bike – reveal there's far more to Brittany than delicious crêpes and homemade cider. Although these are obviously not to be missed!
To provide convenience for international flights at the end of our week together, our last night will be in Paris. Get ready for one stunning final experience: a visit to the elegant Rothschild mansion followed by a tasting of their famous Bordeaux reds!
Day-By-Day
Day 1 – Smooth landing in Étretat, Normandy
Independent arrival in Étretat and mid-afternoon check-in. We are happy to arrange transfers from Paris, including a convenient stop in Monet's superb Giverny home and gardens for those interested.
Our family-owned hotel is situated in a beautiful park just a few minutes' walk uphill from the village. With incredible views on the famous cliffs and the sea, the property offers respite from the village noises and activities. Welcome to Le Donjon – Domaine Saint Clair.
Lodging for the next 2 nights: Hotel de Charme Domaine St Clair Le Donjon. With spa and bistronomic restaurant. Welcome drinks and D
Day 2 – Majestic cliffs of Étretat and "spiritual" discovery at the Benedictine Palace
The coastal scenery of the delightful village of Étretat is a dramatic "wow".  Framed by twin vertical alabaster cliffs,  Étretat was a favorite of painters such as Camille Corot, Eugène Boudin, Gustave Courbet and Claude Monet. With the vogue for sea air at the end of the 19th century (and again now in the early 2020s!), fashionable Parisians came and built extravagant villas here. We'll admire the scenery, then enjoy a relaxed lunch in a charming manor house.
We'll move on in the afternoon to Le Palais Bénédictine, an architectural masterpiece of Gothic and Renaissance inspiration. The Palais was erected at the end of the 19th century by Alexandre Le Grand, a wine merchant from Fécamp, to celebrate the Bénédictine liqueur. Benedictine is a sweet spirit made of herbs and spices created in 1510 by a Benedictine monk; 70% of production is exported to the USA. Private guided visit of the distillery (the only one in the world), followed by an initiation and tasting of 3 expressions of this unique elixir.
Relaxing drive back to our hotel and free night for dinner. B, L, Benedictine tour and tasting
Day 3 – Pays d'Auge and transfer to Bayeux with a Calvados interlude!
Morning and lunch on your own, with departure in early afternoon for Bayeux. First stop: a traditional Norman Castle built at the beginning of the sixteenth century. Here we'll discover premium Calvados, the luscious apple brandy made only here. Private visit of the orchard, distillery and cellar followed by a VIP tasting and blending workshop with the Wine Cellar Master. One hour transfer to our next destination, where we'll have a free evening. Our 18th century château hotel lies in a spellbinding setting only five minutes from the center of Bayeux and 10 minutes from the sea and Omaha Beach. Consider the myriad offerings in town for dinner tonight.
Lodging for the next 2 nights:  Superior rooms at Château de Sully. With spa and 1-Michelin star restaurant. B, Calvados tasting
Day 4 – Bayeux and D-Day Landing Beaches
Bayeux is a medieval town that has kept much of its beautiful ancient architecture. Yet, Bayeux is mostly renowned for its tapestry museum. Dating from the 12th century, the tapestry is an impressive 70 meters long and retraces the conquest of England by William, Duke of Normandy at the time, who would soon become William the Conqueror and King of England. On this piece of art made of wool and cloth, more than 600 soldiers and 200 horses are depicted. The tapestry is an absolutely unique part of the UNESCO World Heritage. Follow the visit by discovering Bayeux Cathedral. Built in Norman style, it was dedicated to William the Conqueror in the year 1077. Years later, it was extended in Gothic style, leaving us with a true architectural gem.
The day will conclude with privately guided stops at the main Normandy Memorial sites: Pointe du Hoc, the D-day landing beaches, and the American Cemetery. Pointe du Hoc offers breathtaking views of Utah and Omaha beaches. This strategic position is the reason why the Germans established a major camp there, the remains of which are still clearly visible today. Located on the coast, the 70-hectare site of the American cemetery overlooks Omaha Beach and brings together the graves of 9,387 fallen soldiers. The chapel, the memorial and the garden of the Missing complete this ensemble. The visit can also include the Church of Saint-Mère l'Église, Caen Memorial.  B, 1-star Michelin D at hotel
Day 5 – On the way to Brittany's Emerald Coast
Morning free to enjoy a spa service, have a walk around the grounds of our chateau, or shuttle back into Bayeux for more exploration. After lunch on your own, settle in for a nap as we continue on (2 hours) through the soothing countryside that characterizes the area. Our journey ends in the elegant oceanfront town of Dinard, with brilliant views across the water to the famous village of St Malo.  Staying in Dinard feels a bit like stepping into one of the canvases Picasso painted here in the 1920s. Belle époque mansions built into the cliffs form a timeless backdrop to the beach dotted with blue-and-white-striped bathing tents. Check in and brief rest time before a short scenic walk to dinner at Restaurant Didier Meril.
Lodging for the next 4 nights:  Deluxe rooms at Hôtel Barrière Le Grand Hôtel Dinard (or similar). A member of the Leading Hotels of the World, this property sits right on the water facing St Malo. Here is their commitment to cleanliness. B, D
Day 6 – Magical Saint-Malo by land and by sea
Built up on a peninsula during the 12th century, Saint-Malo is especially famous for its magnificent fortifications. Walking through its narrow alleys with our private guide, we will learn about the shipowners who made the city's fortune. St-Malo was also home to French privateers and pirates, who collected wealth from passing ships and defended the area from attacks by Vikings, as well as British armies. During the liberation of France in August 1944, the city was almost totally destroyed by artillery fire. St-Malo was rebuilt over a 12-year period from 1948-1960.
We'll also be spoiled along the way with some local gourmet delicacies in our selected stores: Chef Roellinger Spices, Bordier butter collection, and much more….! Lunch will be a group affair at La Crêperie Le Corps de Garde. While staying in Brittany, it's de rigueur to try the famous crêpes and galettes. This crêperie  benefits from an exceptional location on the St-Malo fortifications, with an alluring ocean view.
After lunch, we'll discover the beauty of the Emerald Coast from our two small, privately chartered traditional sailing boats. Steep coasts, turquoise sea, long fine sandy beaches, St-Malo, the classified architectural heritage villas of Dinard, majestic capes, islands, dolphins… the Emerald Coast offers many charming seaside cities and natural marvels.
Late afternoon return to Dinard and free evening. B, L
Day 7 – E-Biking along Brittany's Wild Coast
Private transfer (50 minutes) to Sable d'Or les Pins. Here we'll enjoy a light tasting of local products, before being fitted to our electric bikes for a 2-hour easy ride along the Wild Coast. (Non-bikers are welcome to ride in the van.) We'll pass some unforgettable locations, including Ilot Saint-Michel (a very small chapel on a tiny island), wild capes, moorlands, and charming harbors. We'll end at midday in Erquy, famous for its pink-stoned houses lining the harbor. This bay is the largest natural shell deposit in France. Lunch on your own at one of the several excellent seafood restaurants. Perhaps end with the pastry specialty called kouign-amann — we know of no better highlight of the famous butter of Brittany!
Our return drive along the water to Dinard will include brief views/stops at the major sights: Frehel cape, Fort La Latte Castle overlooking the sea, Saint Cast le Guildo and its islets, and Saint Briac.
Gussy up tonight for our Michelin-starred meal at Le Pourquoi Pas. Just a short walk from our hotel, this venue features a young team of chefs who prepare exquisite contemporary cuisine in a calm, water view setting. B, Michelin-starred D
Day 8 – Market and homemade lunch in a fishing village; Mont St Michel after hours
Tucked into the curve of a shimmering shell-shaped bay, the idyllic and tranquil little fishing port of Cancale is famed for its miles of offshore parcs à huîtres (oyster beds) that stretch for kilometers. The excellent oysters themselves are shipped across the globe to the world's finest tables. The waterfront is a relaxing place to stroll and soak up the atmosphere. The header photo for this webpage (above) was taken at Pointe du Grouin, just 7km north of town.
Our ex-pat guide Mary Margaret will help us provision lunch from the market stalls. Returning through town along the Boulevard Thiers with its stately homes, we'll wind our way down the hill to the Oyster Market. There, weather permitting, we'll sit on the sea wall and eat freshly-shucked oysters from the stands (with bread, salted Breton butter, lemon, and a chilled glass of Muscadet). It's the best seat in town, with a view of the oyster beds and the Mont St Michel. The great thing about the set-up: No clean-up, since it's customary to chuck the oyster shells over the wall.
After this 'first course,' we'll head to Mary Margaret's house in the heart of 'Le Port' where she'll finalize for us a lunch featuring the catch of the day 'à l'Armoricaine' – cooked in a tomato-based sauce that's a classic from Brittany.
After lunch we'll depart for Mont St Michel.  The bay around Mont St Michel is famed for having Europe's highest tidal variations; the difference between low and high tides – only about six hours apart – can reach 50 feet! The Mont is only completely surrounded by the sea every month or two. Regardless of the time of year, the waters sweep in at a phenomenal clip, said to be as fast as a galloping horse. We will arrive just as the Abbey is closing to the public, so that we will enjoy a completely private walk through this normally very crowded site. The evening ends with a private aperitif overlooking the Bay. Premium food & cocktail by a Michelin-star team.
Private transfer back to the hotel, arriving by around 10pm. B, oyster tasting, L, heavy hors d'oeuvres in the eve
Day 9 – Fast train to Paris and the Rothschild Experience
Hotel check-out today and transfer to Rennes, where we'll board the late morning Train de Grand Vitesse for the 90-minute ride to Paris. Private transfer to our charming 4-star hotel and time for lunch on your own and shopping/rest.
Later this afternoon, we'll stroll to the 18th century Rothschild mansion located nearby. During our private visit, we'll discover rare objects collected from the 19th century by Baron Salomon de Rothschild and his wife Adele. These include works by Delacroix and Rodin, astonishing Chinese jade, precious weapons, tapestries and old stained glass: more than simply a visit, this experience will immerse us in the memory of 19th century Paris. The visit is followed by a moment in their beautiful wine cellar, located next to the mansion. We will discover the wine estate of the Baron de Rothschild family, tasting a few wines of the famous domain of Pauillac in Bordeaux.
We'll complete the wine tasting around 7:30, just as the plethora of Parisian restaurants is calling to you! Dinner on your own, so you can enjoy whatever is your pleasure this evening. B, Rothschild Bordeaux wine tasting
Lodging for tonight: Superior Rooms at Hotel Mathis Paris (or similar) in the elegant 8th Arrondissement of  France's capital city. 
Day 10 – Departure for home or onward private travels
Independent transfers to Paris airport or onward travels. B
Special Features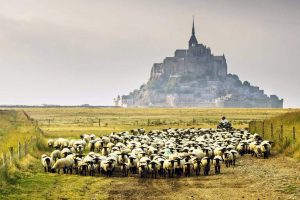 We will try the exquisite meat of the salt marsh lambs of Mont St Michel during our time there! Read more about the shepherdess of the famous bay here.