La Dolce Vita on the Amalfi Coast — May 2023
Discover Capri, the Coast and Beyond
Overview
"See Naples and die," goes the old saying about the place, alluding to the beauty of the city's incomparable setting in the shadow of mountain and the blue waters of its enormous bay. Naples, Italy's 3rd-largest city, is arguably its most colorful and certainly its most chaotic. Underneath Vesuvius the streets of Naples teem with activity, where Italians eat, work, play, and gossip. Here the amazing architectural monuments are the backdrop to street markets, small shops, and lively neighborhoods…a microcosm of Il Mezzogiorno, the land of the midday sun.
The region of Campania is also home to the pleasure island Capri, the historic ruins at Pompeii, and the stunning Costiera Amalfitana, south of Naples. Over a century ago, local writer Renato Fucini promised that when the amalfitani go the heaven on Judgment Day, it will be a day like any other. Those who drive along the Amalfi coast still find it heavenly. The road from Sorrento to Salerno winds through quaint white villages built on steep angles, with one side of the village unfolding down to the cerulean water and the other rising up the mountainside. Inside each village, there are more delights for the senses: hand-painted tiles, lemons the size of grapefruits, leisurely lunches of grilled fish from the morning market, and a sea-sky so intensely blue it inspired Steinback to call Amalfi "a dream place." And those beaming smiles of the locals seem to reflect the omnipresent sunshine.
Day-By-Day
Day 1 – Coddled Beginnings: Luxury Treat in Naples and its Finest Museum
Independent arrival at the elegant Grand Hotel Santa Lucia, a classic Neopolitan hotel that exudes luxury and nobility. Our executive sea view rooms offer eye-popping vistas onto the Castel dell'Ovo, and our central location in one of Naples chic-est neighborhoods offers myriad shopping opportunities. This afternoon we'll visit a museum (the only one on this trip!) like you've never seen. The Naples Archeological Museum will begin to prepare your mind and heart for what we'll experience this week. Our guide will hit the highlights of this randomly organized yet amazing collection of treasures from Pompeii, Herculaneum and Rome, among other places. The ancient glass, statues, incredible mosaics, frescoes, coins, silverware and cooking utensils are unforgettable. The afternoon ends with a whirl through the "Secret Room" of erotic Pompeian art, which was open to the public only a decade ago after nearly 100 years in hiding. Cocktails and dinner tonight in a terrific local restaurant just a short stroll away. Cocktails and D
Lodging tonight: Executive sea view rooms at Grand Hotel Santa Lucia or similar
Days 2  – We're Off to Capri for Three Glorious Days!
After a rich breakfast at leisure, consider joining Susan for an optional walk through "old Naples". This is the area where artisans have worked for hundreds of years on the famous creches and other intricate figurines, many quite amusing, for which the city is famous.
Midday transfer by hydrofoil to the Isle of Capri and then on to our 4-star hotel. We will send you up to town in convertible cabs, give you a map of the island, and set you free to wander the winding streets of enchanting Capri, which empties of daytime tourists after the last ferry leaves around 6pm. Make your way to our hotel in the center of Capritown in time to get ready for dinner. Bags will be in your rooms by mid-afternoon.
8:00pm: Convene in our hotel lobby to walk to a delightful dinner overlooking the Faraglioni rock formations at Il Geranio Capri (or similar) B, D
Lodging for the next 3 nights: Superior sea view rooms at 4* Hotel Syrene (or similar).
Days 3 and 4 – The Isle of Capri – Going Native
What a gift – two full days to enjoy whatever you love most about this magical, tiny island (only 4 miles long and 2 miles wide!) We'll provide suggestions and maps to our favorite places. Across the isle is the "other town", charming Anacapri. Take the chairlift here to the top of Mount Solaro, the highest point on the island, for a visual overview. Then perhaps a visit to Villa San Michele, sitting atop the ruins of Emperor Tiberius's villa. This phenomenal home was built by Swedish physician Axel Munthe, whose turbulent life is as interesting as his house and gardens are stunning.
A midday option (not included) is lunch at beautiful beach club Il Riccio, which along with feeding us in style, has circumvented the line for the Blue Grotto for us every time!
Of course, you'll also make your way back to Capri (watch out for hordes of day-trippers though), spend time in our hotel's pool, have a Negroni amongst the beautiful and bejeweled in the Piazzetta, or explore some of Capri's intriguing walks. The narrow passageways through the residential areas of Capri town wind up to Villa Jovis, the largest of twelve villas that Caesar Augustus built on the island. Nestled 1000 feet above sea level, Villa Jovis was also the choice residence of his successor, Tiberius. Built in 30 AD, this ancient Roman villa once occupied 77,000 square feet, had several floors, an elaborate cistern system for collecting and distributing rain water for drinking and bathing, and immense gardens. From its treasured position, enjoy spectacular views of Punta Campanella, the bays of Salerno and Naples, and the looming Mt. Vesuvius. Returning to Capri town, stop at the Natural Arc. From this unique perspective you can look through what is believed to be the remains of a cave that fell in on itself. From the original opening, catch glimpses of the turquoise water that's only found here.
Descending toward the heart of Capri town, walk along the south side of the island to the vibrant Gardens of Augustus. These gardens were once part of the private residence of Friedrich Alfred Krupp and also mark the beginning of Capri's most beautiful road and true work of art, the Via Krupp. This road was designed by Krupp to follow the natural landscape and provide a private route to the Marina Piccola from his villa above. The road may or may not be open (subject to occasional rockslide closures!) and is the best way to arrive at the Marina Piccola. B both days; D on Day 4
Day 5 – Private Journey to the Amalfi Coast and an Afternoon with the Locals
Departure after breakfast to meet our private boat for the journey across the waters to the Amalfi Coast. Having chartered our own vessel means we can see Capri from the sea at our leisure in a manner that most visitors can't imagine. Early afternoon arrival in the tiny seaside town of Marina del Cantone near the tip of the Amalfi Coast. Really nothing more than the emerald sea, a few colorful buildings and fishermen's boats, this little reality is as close to Italian immersion as you'll get. We are in for a treat: lunch prepared by Marinella, a very talented self-taught chef who runs an Inn and restaurant with her family. In fact, her husband Pepe's freshly caught seafood is our focus, and simplicity reigns in this kitchen. The family's own olive oil finishes off the dishes in splendid style. After lunch our captain whisks us off to our uber-sweet hotel in Sorrento, where our bags already await us. Choose among the many restaurant options in Sorrento for dinner tonight. B, L
Lodging for the next 3 nights: Gorgeous sea view rooms at Maison la Minervetta or similar.
Day 6 – Pompeii and a Wine Tasting Pranzo
Al fresco made-to-order breakfast on the terrace overlooking Sorrento starts every day at Maison La Minervetta.
Morning departure for Pompeii. Buried under nearly 20 feet of pumice and ash from Vesuvius's eruption nearly 17 centuries earlier, Pompeii offers an unparalleled view into city life at the height of the Roman Empire. A holiday town of about 20,000 people, Pompeii has been preserved in its tiniest details, from graffiti-covered walls (the original street Latin!) to intimate frescoed portraits of young couples. Our guide will bring to life this fascinating World Heritage Site during our two-hour walk. Follow our archaeological foray with a refreshing lunch (highlight: those stunning tomatoes from Mt Vesuvius!) paired with great local wines.
Return to Sorrento in early afternoon, with time to explore the winding, narrow pedestrian streets this afternoon, perhaps stopping to purchase a beautiful cameo, handmade sandals or coral jewelry. Dinner on your own tonight. B, light L
Day 7 – Ravello
Departure after breakfast for Ravello. We will stroll through beautiful gardens from the town square to Villa Cimbrone. Thoughts on the view from the Villa's Infinity Terrace? Well, American author Gore Vidal stated: The most beautiful sight that I have ever seen in the world is the panoramic view from Villa Cimbrone on a bright winter's day, when the sky and the sea are so vividly blue that it is not possible to distinguish them from each other. We move on to Villa Rufolo, the earliest parts of which date to 1200. Originally a watch-tower, the structure is infused with Moorish influence and includes a stunning garden that was one of Wagner's favorite places. Lunch on your own, with time left for shopping Ravello's famous ceramics. We know the best shops, all of which ship back to the US!
Tonight we'll pack for our departure before our final casual dinner at the Marina Grande. B, D
Day 8 – Departure
Private transfer to Naples after breakfast; time to talk about future destinations! B
*B=Breakfast, L=Lunch, D=Dinner provided
Special Features
We are happy to offer pre- and post-tour extension ideas. All guests are strongly encouraged to arrive in Italy at least one night prior to the tour in order to rest from the journey. We hold several rooms for this pre-tour night at our Naples hotel in option for Adagio clients.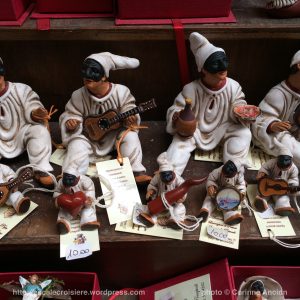 Traditional Neopolitan figurines