Deruta Road Trip (aka, Italian Ceramics Anyone?)
March 23, 2021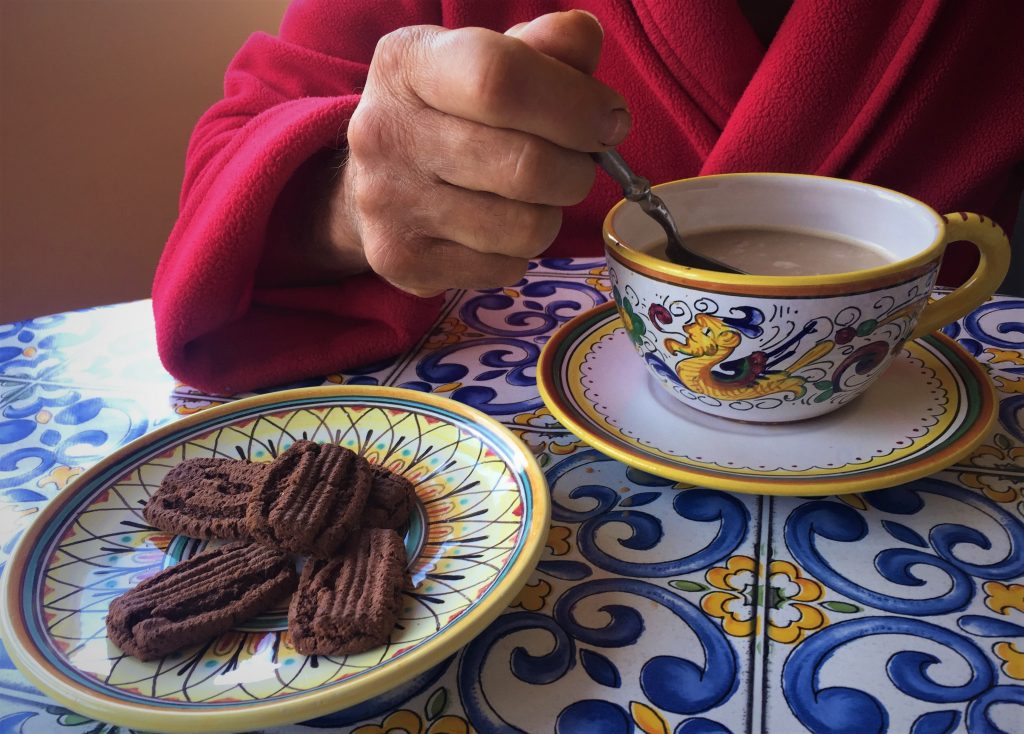 Enjoy this guest blog from Liz Brewster, our go-to guide in Rome.
I admit it. I am a ceramics fanatic. I love using beautiful, colorful, hand-painted cups, bowls and dishes for meals — pretty much every day, not just for special occasions. Beautiful objects lift my spirits.
Fortunately, I live in Italy where the culture of artisan craftsmanship is alive and well and has been going strong for centuries.  I have many favorite ceramics workshops throughout the peninsula that never fail to delight me when I visit. There is one town that I visit more often, that has a special place in my heart…
This is what happens countless times: The spark may start during a meal when friends are over for dinner.  Comments like "Where did you get that platter? I love your salad bowl, cup, saucer etc." creep into the conversation.  By the time we're eating dessert, we're planning a road trip… This is what happens when like-minded friends visit me from the States and needle me for ideas for something "special" to take home. The Deruta road trip to buy maiolica (hand-painted earthenware pottery) has become an institution for me.
From Rome through Umbria to Deruta
Deruta is a small, medieval walled town perched on a hill about 7 miles from its more well-known big sister city, Perugia.  If I lived in the 1500's I could find Deruta by following the banks of the Tiber River on horseback from Rome.  Today it's a comfortable 2-hour drive on the autostrada (highway) and superstrada (state road) through the green rolling hills of Umbria to get there.  It's easy to see the turnoff is approaching because of the uninterrupted series of small factories, workshops and showrooms of artistic ceramics. About 9,500 people live in Deruta and every family has at least one member who works with ceramics.  The town lives and breathes artistic maiolica; it's everywhere you look.  The street signs, bar tables, shop signs and even the benches in the town park are made of hand-painted ceramics. The Regional Ceramics Museum, housed in the convent of the main church of the town (San Francesco), is a good place to see gorgeous examples of the 500+ years of Deruta's best maiolica production.    
Many of the maiolica workshops and factories have been family-owned for generations.  When you walk in to browse the exposition areas, you may see workrooms tucked away in the back or on the floor above.  If you are curious and ask, usually you will be welcomed with a smile to look in on the production.  With a little luck, you might watch a tornatore (pottery shaper) "throw" a vase on the potters' wheel or see a master craftsman painting a design onto the pottery's surface using fine-tipped paint brushes and colored mineral-based pigments. The ultimate luxury is being able to order your own custom maiolica pieces, just as the nobility did in the renaissance period. If you can forgo bringing your purchases with you and can wait for your order to be made, international shipping is no problem. In fact, the Derutesi craftsmen export the greater part of their artistic maiolica internationally; Japan, Germany, and the US are some of the principal importers.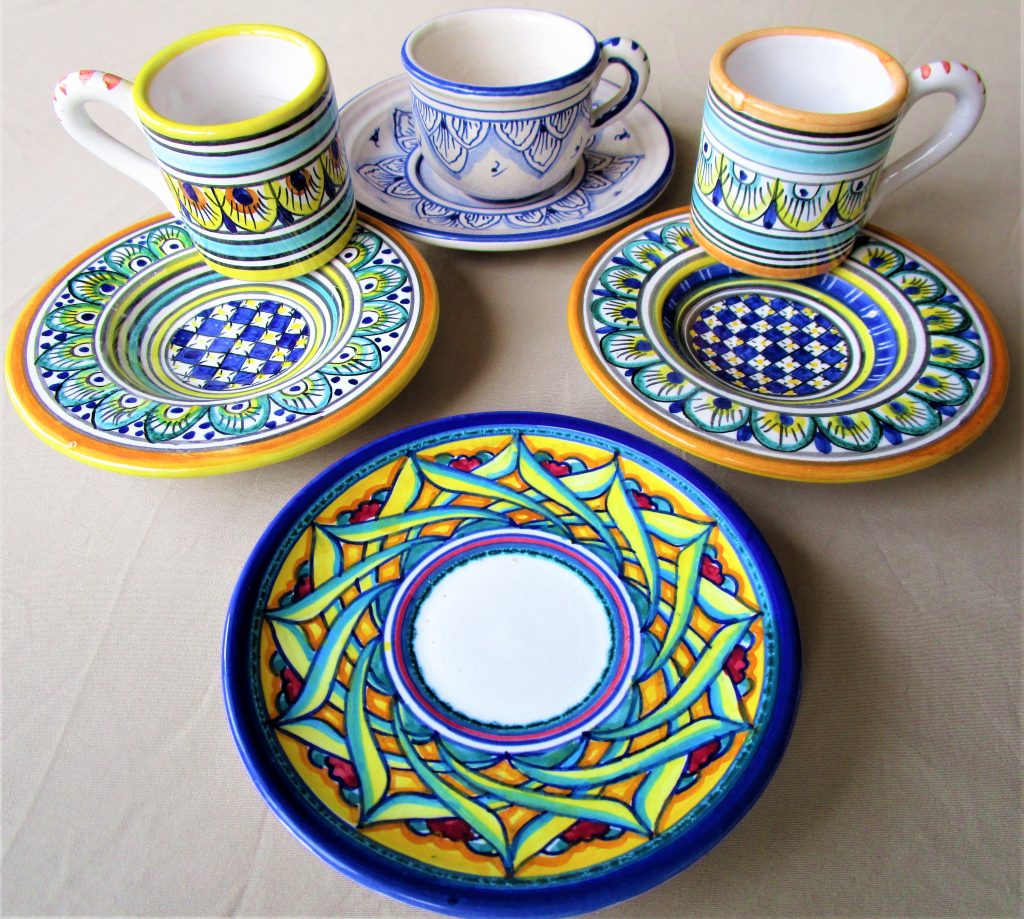 Learn more with Liz
What are my favorite Deruta designs?  I like the "raphaelesque", which has been a popular design since the Renaissance. I also love the super-rich colored "geometrico" or geometric, also very traditional, but with a bit of contemporary interpretation.  
**********************************************************************    
Liz Brewster is an American architect, tour guide and lecturer and has lived in Rome and collected Italian maiolica for 30 + years.
Her current "virtual tour" online through Context Travel is titled "A Ceramic Lover's Journey through Italy"; there is one scheduled for this Sunday March 28 at 1:00 pm Eastern Standard Time.  You can sign up here:  A Ceramics Journey with Liz. Enter the word "Adagio" in the box on the checkout page to thank us for sending you!