The Perfect Umbrian Meal
July 22, 2020
First course: Pasta alla Norcina
Pasta alla Norcina is a traditional Italian pasta dish hailing from the Umbrian town of Norcia. The dish is made with short pasta such as penne or rigatoni, crumbled Norcia sausage, onions, white wine, cream, and a generous amount of grated pecorino.
There are some versions that also use black truffles, long pasta such as spaghetti or tagliatelle, and occasionally wild mushrooms. Norcia is famous for its truffles and pork products, so it's no wonder they make use of those ingredients in their specialty dishes.
Perfect with a fresh green salad on the side.
Second course: Porchetta
The amazing roast been hugely popular in central Italy for more than 2,000 years. Back in the day the Emperor Nero was said to enjoy it and Roman Army cooks fed it to soldiers in camp. It's usually prepared by roasting a whole pig, although you can also roast just shoulder or loin cuts. Rather than preparing it at home, Italians today most often enjoy porchetta sold by street vendors and at festivals, where it's served on bread. It's a mystery that porchetta hasn't become a favorite in the US! If you have time on your hands this summer, here is a 5-star porchetta recipe to try.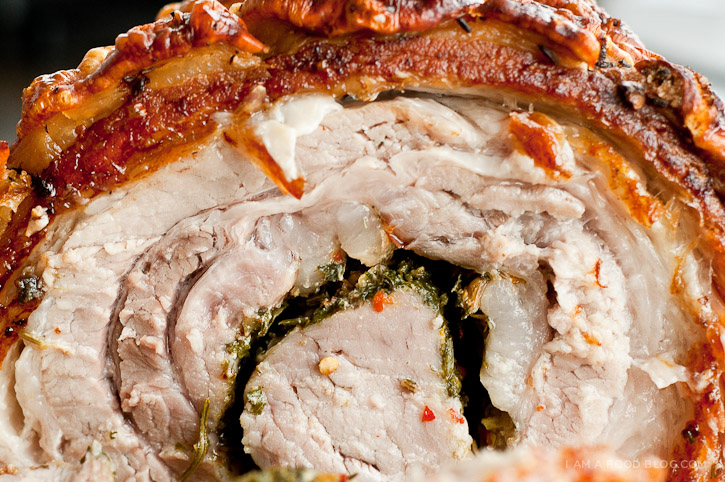 The traditional preparation is always the same: the pig is gutted, carefully trimmed, and washed. The belly is then filled with the chosen stuffing, generously salted, rolled up and roasted until the crackling is golden, hard, and crunchy. The Umbrian version is stuffed with the pig's chopped entrails mixed with lard, garlic, salt, pepper, and wild fennel. The meat is then rolled, spitted, and roasted in a wood oven. Thinly sliced and served between slices of homemade bread, porchetta is one of the richest, most delicious foods you can try in Umbria, available both as a quick treat bought from food-trucks at markets or fairs, or served as a rich second course in local restaurants.
And to wrap up: Brustengolo
Brustengolo is an old rustic dessert that originated in rural areas of Perugia. It is made with cornmeal, a staple ingredient in the region, which is combined with water and sugar, while the most typical additions include apples, raisins, pine nuts, lemon zest, olive oil, anise seeds, an anise-flavored liqueur, and walnuts.
The mixture is then baked in the oven, usually in a round pan. The dish is enjoyed as a dessert, but it can also make a nutritious snack. We don't know when brustengolo originally appeared, but it was surely invented as a poor man's dish that made use of the available regional ingredients.
Nowadays, it is made in several local variations across Umbria, and though it was initially an autumnal dessert, it can be enjoyed as a year-round treat.
UMBRIA FOOD & WINE TASTING
So there you have it, an entire meal! primo (pasta alla norcina), secondo (porchetta) and dolce (brustengolo). We can organize many food and wine experiences in Umbria. Examples:
Carini Winery is found between the slopes of Mount Tezio and Lake Trasimeno, an area traditionally recognized as being super suitable for the cultivation of grapes and olives. Here you can spend the morning exploring the estate on horseback, then belly up to the bar to taste their organic wines and EVOO (both organic) paired with bread cooked under ashes and exquisite cured meats made from their farm-raised Suffolk sheep.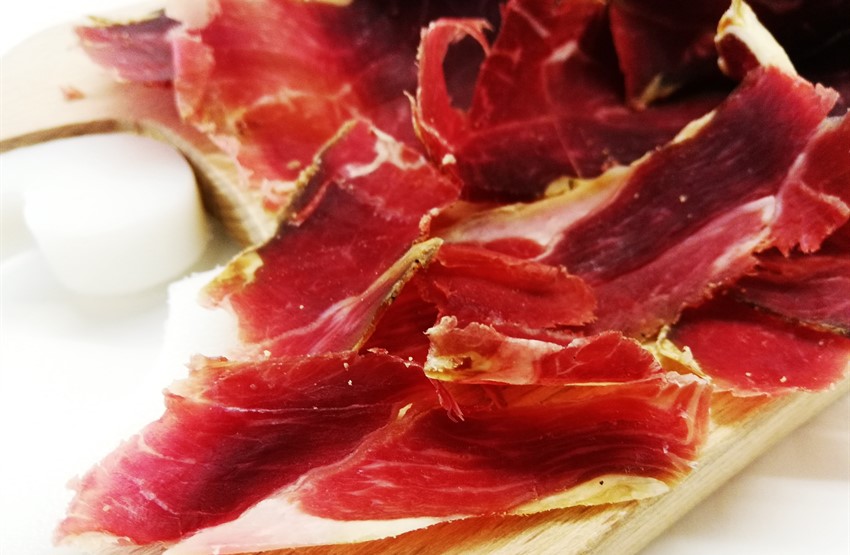 Moving toward Orvieto we find Cantina Lapone. On arrival you'll be welcomed by Piero or Ramona, who will introduce you to the rich wine-making heritage of this area. You'll be able to walk among the vines, feel the soils in which they grow and at the right time of year, even taste the grapes. From the vineyard you'll move to the cellar where you'll learn how the wines are an expression of this amazing terroir. You'll sample both red and white wines, together with a selection of locally made breads, cheeses and artisanal salumi.
Contact Adagio for more info!